Summers in Ontario can be hot and humid. A good air conditioner is necessary to make the home cool and comfortable. 
If you are looking for the best option for your cooling needs for your home or office, you have come to the right place.
Get as much information as you can for the best cooling products available on the market. Compare features and prices to find what suits your needs and budget.
Best of all, you can do your shopping right here using our short online form to get FREE and NO-OBLIGATION quotes from reliable HVAC contractors in your area.
Save time and money while buying the right wall-mounted air-conditioner to keep you cool and comfortable all summer.
HVAC contractors for installing cooling systems
If you want to install an air conditioner in your home, make sure to work with a reliable HVAC contractor. Avoid unpleasant surprises!
An HVAC contractor will check your cooling requirements and your home's configuration to help you get the right equipment that meets your needs. Professionals know the most advanced and high-quality equipment that will help you save on your energy consumption.
Proper installation of your cooling system will also ensure you get maximum performance from your equipment and avoid frequent repairs or early replacement.

You will also benefit from warranties for your peace of mind.  Protect your investment and be comfortable all summer with the professional installation of air-conditioning in your home by our partner HVAC contractors.
For safety reasons and to ensure the durability of your cooling system, turn to our HVAC partners for the installation of your air conditioner.
Do you really need to replace your air conditioner?
There are various reasons why people want to replace an air conditioner. Some homeowners want to upgrade an old air conditioner to a more modern and energy-efficient one. Others have no other choice because their unit has stopped working.
But in any case, you don't need to wait until your unit conks out before you consider a new installation. No need to endure a hot summer day or night without air conditioning.
Check these sure signs that you may need a new air conditioner.
Older systems may not be efficient anymore and could be using more energy than it should to operate.
Save on energy bills and get maximum performance from a new air-conditioning system. Compare your options by filling out the short online form below.
Types of air conditioners to choose from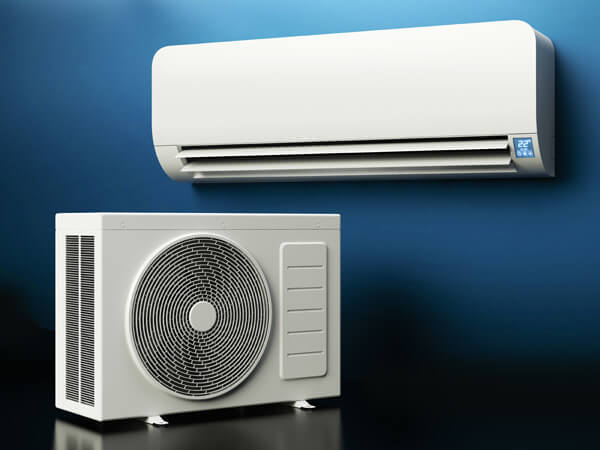 Before shopping for a new air conditioner, you may want to know what options you have.
Central air conditioners
Central air conditioners are more expensive than other models they also have a longer lifespan.
With a central air conditioning system, you can cool the entire home with one equipment. A compressor is installed outside your home and is connected with ducts for cool air to reach every part of your house.  An evaporator is directly installed in the system to diffuse fresh air throughout your home.
If your house has a central heating system or you want to install one, you may want to have central air conditioning installed, too.
There are many benefits to a central cooling system. It is economical and practical, especially if you want to cool multiple rooms.
Don't choose a central air conditioner if you want to cool an area less than 150 square feet as this can increase your energy bill significantly.
Wall-mounted air conditioners
Wall-mounted systems are also called wall units.  The system is installed in an interior wall and a condenser is installed outside. These two units are connected by ducts with refrigerant to exchange air for cooling or heating.
Some wall-mounted air conditioners are heat pumps. They can cool and heat, depending on the temperature outside.  This means you only need one system for your home.
There are numerous benefits from wall-mounted air conditioners:
Note, however, that ductwork is required for this type of air conditioner. Further, you may need to get additional heating equipment for temperatures below 12 degrees Celsius.
Multi-zone air-conditioners
Also called split systems, this type of air conditioner allows the cooling of different rooms in the house.
It has more than 1 evaporator so you can control temperatures in different areas. You have one compressor outside the home and a system of ducts with refrigerant.
This system is very powerful and can cool as many as 8 rooms simultaneously.
A multi-zone air-conditioner can be ideal for your house if:
Portable air conditioners
A portable air conditioner is an easy alternative for those who don't need a complex cooling system. For instance, tenants or apartment dwellers may benefit from this type of system.
Operating a portable system is easy. It is installed at the bottom of a window and used to cool a single area.  It can also be transferred without complex installation to another location.
Of course, portable air conditioners don't provide the benefits of more complex systems but they are cheaper and relatively durable.
Compare Central Air Conditioner Prices in 2022
Like clothing and other items we use in our daily life, air conditioner prices also vary depending on their brand. Sometimes, the more expensive ones are not automatically better. Thus, it pays to know your options so you can get value for your money.
 We want to give you a clearer idea of the cost of central air conditioning systems in Ontario by size and brand as well as a breakdown of installation costs.
We grouped the following air conditioners into 3 categories- economy, mid-range, and high-end.
Some brands are more expensive than others. It all depends on the details of the installation (complexity), choice of contractor, and the model you select.
| | |
| --- | --- |
| Brand | Average Price |
| Goodman | $3,500 to $5,700 |
| York | $3,500 to $5,500 |
| Keeprite | $3,500 to $5,500 |
| Amana | $3,500 to $6,500 |
| Coleman | $,3500 to $6,000 |
| Payne | $3,000 to $,5250 |
| Lenox | $3,500 to $7,200 |
| Luxaire | $3,500 to $6,250 |
| Daikin | $3,000 to $6,000 |
| Heil | $3,500 to $6,000 |
| American Standard | $3,500 to $7,000 |
| Bryant | $3,600 to $7,500 |
| Carrier | $3,500 to $7,500 |
| Ruud | $3,500 to $7,500 |
In Ontario, brands like York, Goodman, and Keeprite are quite popular among households. They are of good quality and are slightly more inexpensive than other brands.
Mid-range brands include Amana, Payne, and Napoleon and are also very popular among homeowners.
High-end brands include Carrier, Lenox, Luxaire, Rheem, and Bryant. They are the most efficient in the market and offer high SEER ratings from 13 to 20++. The quality of the warranties offered also have an impact on the price.
Please remember that these prices are just average costs and may change based on factors specific to your contractor, type of system, and other factors.
Wall-mounted or central air conditioner?
This is a common question among homeowners buying an air conditioner. There is no quick answer because it depends on factors such as your home, your lifestyle, and your budget.
Ultimately, you need to decide based on your situation.
First of all, the financial aspect is important. Central air conditioners are more expensive than wall-mounted systems and would require ductwork.
Central units are better for cooling larger spaces than a wall-mounted system. Central systems can dehumidify the air much better and provide cooling steadily. And while central systems are more energy-efficient, they cost more to maintain and operate.
The ideal situation for a wall-mounted air conditioner is for smaller homes such as for single professionals or couples or for a new addition that cannot be accommodated by an existing central system.
Regarding the cost, a new central air conditioner can cost from $3,000 to $7,000 to install while a wall-mounted system can cost from $400 to $700.
Fill out the short form on this page and receive tailored solutions from HVAC experts near you.
The cost to operate a central air conditioner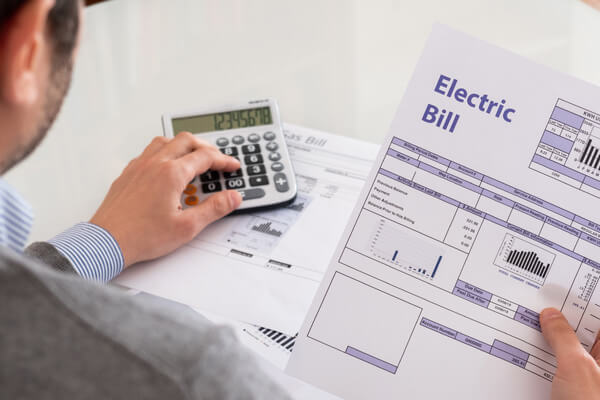 Are you worried about the cost of using and maintaining a central air conditioner?
Two factors will dictate the cost of operating your cooling system, electricity, and maintenance.  The cost depends on how much electricity costs where you are located and the repairs you need from year to year.
The typical cost for a central air conditioner is $400 to $1,000 a year and this varies based on your usage and whether you have an HVAC contractor doing regular maintenance.  You will also need to get an annual check and tune-up.
Some warranties from manufacturers include parts and labour for a certain period of time. The quality of the warranty will help you save on maintenance.
For optimal performance, it is recommended to get your system serviced at least once a year.
You can also reduce your energy bill by choosing high-efficiency models with ENERGY STAR ratings and ensuring your home is well-insulated.
Fill out our short online form to get FREE estimates from our partner contractors with no commitment on your part!
FAQS for buying a central air conditioner
What is the average lifespan of an air conditioner?
Good quality air conditioners can last from 10 to 15 years if properly maintained.  If not properly installed or maintained, your AC can start giving your problems sooner than expected.
How much does a new air conditioner cost?
The cost of a new air conditioner, on average, is from $3,500 to $7,000, depending on the model, size of your system, and your contractor.
Check the table above for average prices per brand of central air conditioners. To get an actual quote, fill out our short online form.
Is it advisable to buy a central air conditioner?
Central air conditioners are advisable for cooling multiple rooms and if you want to be able to control the temperature in these rooms simultaneously. Central air conditioners will make the summer heat bearable conveniently and efficiently.
What are the disadvantages of central air conditioners?
Central air conditioners are powerful and convenient for cooling larger homes. They are more expensive but more practical than window-type systems for cooling multiple rooms.  Annual maintenance is also required, including tune-up and cleaning of the air ducts every 3 or 5 years.
Central air conditioners also take up space outside the home.
What is the right size of central air conditioner for my home?
The size of the central air conditioner should match the size of the area you want to cool. For a home with 1,000 to 1,500 square feet, HVAC professionals recommend 2 tons. If your home is 1,000 square feet or less, 1.5 tons will be adequate. For 2,500 square feet, it is advisable to buy 4 tons for your air conditioner.
What is a multi-zone air conditioning system?
A multi-zoned HVAC system divides the area of the home and allows you to control the thermostat. You can set the desired temperature for each room rather than having one temperature for the entire house.
How to choose the right HVAC contractor in Ontario
Whether you want to install a new air conditioner or heat pump, it pays to hire the right HVAC contractor in Ontario.
HVAC contractors in our network are licensed and insured for your protection and peace of mind!
We recommend looking at the following when searching for a good HVAC contractor:
At Compare HVAC, we have screened our partners rigorously to ensure you get an efficient, transparent, fair, and stress-free transaction.
Our quotes are FREE and NO OBLIGATION so you have nothing to lose by using our comparison platform.
Fill out the form below and get connected to top HVAC contractors in your area.