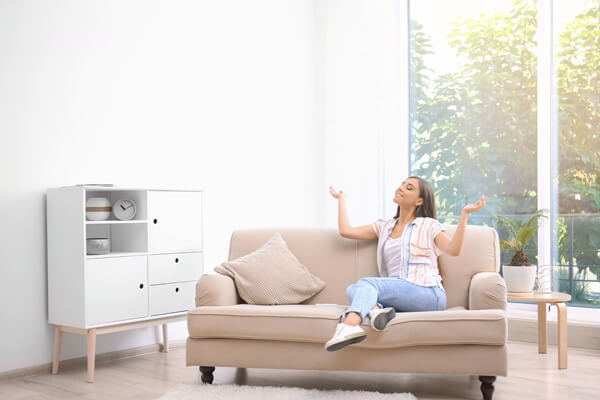 Wall-mounted heat pumps are convenient and practical for keeping the temperature in the home comfortable all year round.
The right question to ask is whether you want your equipment for cooling only or for heating too. 
A heat pump is a little more expensive than a standard air-conditioner but its heating technology allows you to use it throughout the year. If you buy a regular air-conditioner, you can only use it during the summer. Thus, a heat pump can give you more value for dual function compared to buying two separate devices.  It can also help you to save on your energy bill.
If you need heating and cooling for a more comfortable home, check out the different wall-mounted heat pumps available from our reputable partner contractors.
Just fill out the short online form on this page to RECEIVE FREE AND NO-OBLIGATION QUOTES!
What are the advantages of wall-mounted heat pumps?
A wall-mounted heat pump is a great alternative to consider when you want to invest in an air-conditioner.
It can provide distinct advantages such as:
Heating and cooling capabilities
Can be installed in multi-zone systems and multiple locations
Energy efficiency for more savings
Superior air quality and comfort
Reversible valve to draw heat from inside or outside
The biggest advantage is being able to heat the home, too. If you don't need heating capabilities from your equipment, you can just choose a regular air-conditioning system.
Reasons to install an air conditioning system in your home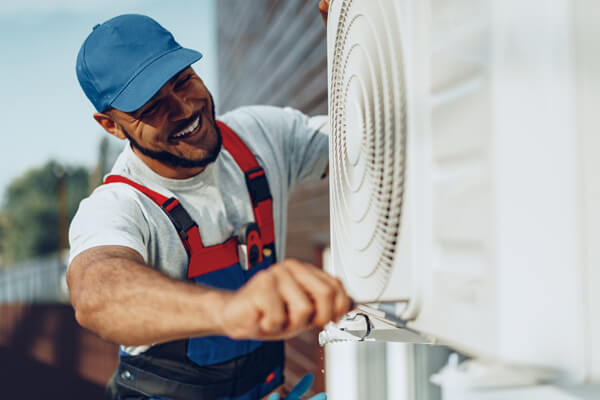 Are you still hesitating to install an air conditioner in your home? It is better to act now before the weather gets really hot and uncomfortable.
HVAC companies become really busy due to the high demand for their services around the spring and summer months. If you want to install a heat pump now, book your contractor ahead of time.
Here are a few reasons why you should have an air conditioning and heating unit installed:
A cooling system will greatly increase your everyday comfort.
You can sleep better at night and improve your overall health
A heat pump provides heating as well and will help you save on electricity
An air conditioner or a heat pump will also increase the value for your property
If you are worried about the cost of this project, you should know that there are also grants and subsidies that could be available in your area. Find out more about financing options for installing a heat pump from one of our partners.
Request free and no-commitment quotes by filling out a short online form below!
How many BTUs do you need for your heat pump?
There are different models of heat pumps and air conditioners with different BTUs.  The BTU is a unit of measurement for energy and the higher the number, the more power the device has to cover a large area.
How many BTUs do you need to cool or heat your property? It all depends on its size. Here's how to calculate it in a few easy steps:
Example for calculating the BTUs needed for your home:

Size of the area: 30 ft. x 33 ft. = 990 sq. ft.
990 X 10 = 9,900 > Rounded = 10,000
Number of BTUs required = 12,000 (rounded up)

A 1,000 square feet room will need 18,000 BTUs for maintaining an efficient temperature.
The cost to install a wall-mounted heat pump
Now let's talk about the cost of installing a heat pump by a professional contractor. For such an important project, don't even think about doing it DIY as only licensed and experienced electricians should do it for you for safety reasons and to ensure the proper function of your unit.
Professional air conditioning and heating companies have installation specialists who can come to your home to take care of everything.
The average cost to professionally install a heat pump – $1,000

The installation cost of a wall-mounted heat pump is around $1,000 on average.  Of course, this price is for a single head unit, without the extras. It all depends on the scope of the work. This is why it is advisable to request free quotes from our partners so you can get a more accurate cost for your project.
The total cost of the installation will depend also on the brand, size, and model of the heat pump you choose.
The average cost of a wall-mounted heat pump
The most basic or single-zone systems can cost from $5,000 and up with professional installation.  This is ideal for cooling and heating smaller homes, sunrooms, living room, etc.
Please refer to our guide for buying heat pumps and air conditioners in 2022 to help you compare your options and choose according to your budget and needs.
The average cost of a central heat pump is $7,500+
A central heat pump offers cooling and heating throughout the year for the whole home.  This is an ultra-convenient and efficient system but it may be a bit pricier than other systems.
The average cost of a central heat pump is $7,500 to up to $15,000 for cooling a bigger home.
Wall-mounted heat pump vs. air conditioner
Let's now compare the two types of air conditioning systems. Doing so will inform you about their distinct features and function so you can select the right one for your home.
If in doubt, speak to our partners by filling out the short online form on this page. 
When shopping for an HVAC system for cooling a home, a heat pump or an air conditioner will do the trick.  Both of them use a refrigerant to gather heat from the home as the air passes over the coil and this heat is transferred outside.  A heat pump and an air conditioner basically move the heat from inside to the outdoors.  
Many people mistakenly believe that an air conditioner produces cold air but the truth is that it cools by removing the heat from inside the home. This is also how a heat pump works. They look alike so it could be hard to tell them apart.
Heat pumps and air conditioners essentially operate the same way for cooling the home.
Air conditioners cannot provide heating but a heat pump can. A reverse valve in an outdoor unit allows a heat pump to absorb energy from outdoor air even during cold temperatures and transfers the heat indoors.  But while it can heat the home, its efficiency becomes limited when temperatures drop below freezing. Usually, a heat pump is paired with an auxiliary electric heater to increase heating as required. A furnace can also be added so that a homeowner can switch to a furnace when it is appropriate.
Using a hybrid system is smart and energy-efficient and can reduce your heating and cooling costs significantly.
Which system to choose for your home?
Whether you choose to buy an air conditioner or a heat pump, you are making a great investment.  Which system is better for your home? It depends on your specific situation.
Here are a few things to consider when choosing an HVAC system for cooling and heating your home.
1. Cost of equipment and installation.
A heat pump has a lower cost for the indoor unit but the outdoor unit may have a higher cost compared to an air conditioner. You must understand that the total cost for installing a system that can heat and cool the home well is higher than one that only provides cooling capabilities.
2. Cost to operate and energy efficiency
When the temperature is moderately cold, a heat pump is an energy-efficient way to heat using electricity.  Under these conditions, it will be less expensive to operate a heat pump rather than a system that uses fuel such as natural gas, propane, or oil.
When the temperature drops to below freezing, a heat pump will require more energy to heat effectively which will increase your energy bill. In these conditions, you can switch to a hybrid system such as a heat pump with a furnace.
For cooling your home, heat pumps and air conditioners come in models with different SEER ratings.  They will inform you of the energy efficiency of the different models so you can choose.  The higher the SEER rating, the more energy it saves but they also have a higher upfront cost.
Make sure to select a device with ENERGY STAR certification.
3. Lifespan and durability.
Of course, it is important to think about the lifespan and durability of the system you choose.  There are several factors that can affect the lifespan of your system. Typically, an air conditioner can last longer than a heat pump because the latter is used throughout the year while air conditioners are only used for a few months.
Keep in mind, however, that while a heat pump has a shorter life span, it delivers more value from savings in your heating costs during mild winter weather.  Regular maintenance of your heat pump can keep it running efficiently and increase its life span.
Ask the advice of HVAC experts in our network
Whether you are installing a heat pump for the first time or replacing your current system, it pays to work with reputable and experienced HVAC specialists.
Besides helping you to choose the best system for your home based on its size, heating and cooling needs, and your budget, you will also save a lot of time and money!
Fill out the short online form below to compare multiple quotes for wall-mounted heat pumps or air conditioners.
Shopping for the right HVAC system is 100% free and no obligation so take the time you need to learn about your options.
Our partners will be happy to answer all of your questions to ensure that you get the perfect heat pump or air conditioner that matches your needs.