Find the air-conditioning system that suits your needs
The summer heat can be absolutely unbearable and this makes air-conditioning systems very essential to our health and comfort.
Choosing the right air-conditioning system should be done carefully. It is a major purchase so take the time to compare your options to get the best value for your money.
Would you like to obtain 3 quotes for free and quickly for the purchase of your next heat pump or air conditioner? 
By filling out the short online form on this page, you will get FREE and NO-OBLIGATION quotes from our reliable HVAC partners.
The importance of working with HVAC specialists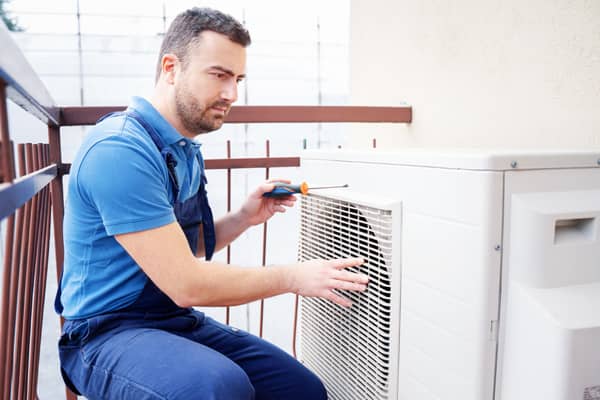 HVAC – heating, ventilation, and air-conditioning- is a very critical component of any home in Toronto, Ottawa, and other parts of Ontario. Summers can be dreadfully hot and winters chilly. Thus, a good HVAC system is important to ensure our comfort and good health.
It is easy enough to find and buy an air-conditioner or heat pump but making the right choice is trickier. They have different pros and cons, as well as prices, and to a layman, the technical details can be quite confusing.
It is also not advisable to install an air conditioner or heat pump DIY if you are not an electrician. Improper installation could lead to a malfunction or poor performance of your system.
While a DIY installation can save you money in some situations, installing a heat pump or air conditioner is not one of them. You need to hire a good HVAC professional to do this for you.
Here are important reasons why you need to work with an HVAC specialist.
Electrical installations are dangerous.There is always a higher level of risk to electrical installations. Only a trained HVAC specialist knows how to handle potentially hazardous components, wiring, ventilation, etc. In Ontario, only licensed electricians are allowed to handle refrigerants and natural gas or make changes to electrical systems.
Tools and parts (which you don't have) may be required.HVAC installations require a variety of tools and parts that may not be available to you. If you buy them just to install a unit, you could end up spending more than you bargained for.
You could lose the warranty.Most warranties state that furnaces or air conditioning maintenance and repair work must be done by qualified technicians. You risk losing your warranty with DIY installations and repairs.
Poor system performance.DIY work may result in poor system performance. Do you want to suffer the discomfort and inconvenience of a DIY fix just to save a few dollars?
Higher utility billsAn air conditioner or heat pump that is not working at 100% efficiency could result in higher energy bills.

It is highly-recommended that you work with qualified HVAC professionals from our network to install, repair, or maintain your air-conditioning system or heat pump.
To find the best HVAC professionals, please fill out our short online form
 and receive NO-COMMITMENT offers from our partners.
What do air conditioning experts offer?
Professionalism, experience and know-how  characterize the services of air conditioning specialists.  They will help you determine the type of system you need and help to find the best brand and model that suits your home and budget.
They know how to properly install heating and air conditioning products so that your investment is both profitable and efficient.
In any case, competent and qualified refrigeration engineers and electricians are the best people for installing your HVAC appliance correctly.
When to replace your air conditioning system?
Several warning signs should alert you about the condition of your air conditioning system.
These systems have a lifespan and they could give up even before the expected date. If your air conditioner is more than 10 years old, you should think about having it inspected and possibly replacing it.
Consider getting a new air conditioner if you notice the following signs:
The system no longer cools like it used to (consult an expert if it can be repaired or needs to be replace)
Abnormal noise;
Spike in electricity bills that cannot be explained.
With that said, know that by choosing a device with a good warranty, you can protect yourself against breakage and premature aging of your system.  Do regular maintenance of your air conditioner and have it repaired as necessary. Prevention is better than a cure. If, however, the repairs are becoming too frequent to be practical, perhaps it is time to consider buying a new air conditioner.
The best time to replace your air conditioner
Obviously, if your appliance no longer works or when repairs get to be expensive, it is time to find a replacement.
As you may know, air conditioning specialists or HVAC contractors are in high demand during the summer months. It is more difficult to get an appointment with an expert during this busy period! If you have an urgent need to install a new air conditioner, waiting for an available contractor will be very frustrating.
We recommend that you get ready with your air conditioner replacement before summer such as in the spring or fall.
April and May are perfect months for HVAC system upgrades or repairs. You can easily book an appointment and get the home ready for the hot summer time. 
Obtain free and no-obligation quotes today using our short online form!
Compare air conditioners to get the maximum value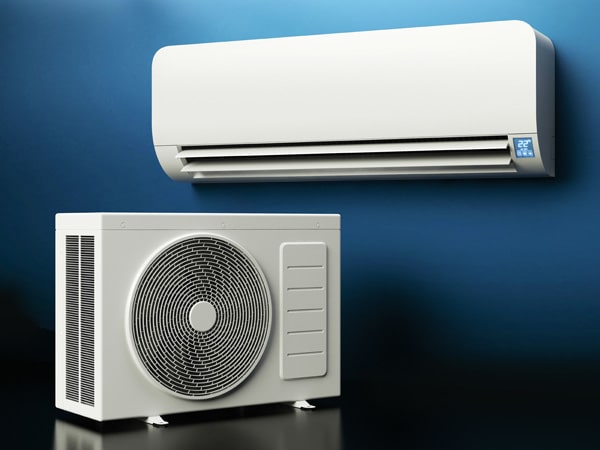 Has the time come for you to replace your heating and air-conditioning system?  It is best to compare all of your options to make the right choice.
At Compare HVAC, we understand that you are making an investment and need to get the best value for your money. This is why we have prepared the steps you need to take when shopping for your heating and cooling system.
Determine your cooling and heating needs
The first step to a well-informed purchase is knowing what your needs are.
Take note of the following:
The dimensions of the rooms you would like to heat or cool (or those of your property, if you are considering a central or multi-zone air conditioner, for example);
The atmosphere you would like to enjoy (Do you prefer a rather cool environment? Each type of heat pump or air conditioner will offer you a unique experience. Unlike central air conditioners, the multi-zone air conditioner, for example, will allow you to control the temperature of each room in your house);
Your habits (Does the summer heat bother you much?) Would you like to have an air conditioner that you can operate for long periods without the high cost? Then you should choose a very energy-efficient system such as wall-mounted systems.)
Your budget: Compare different products and prices to find the best system without overspending.
Once you know what you need, you can shop around and make a well-informed choice when buying the best air conditioner for your home.
Replace old heating and air conditioning systems with a new one
Is your heating system still working alright but your home has become too hot in the summer? Replacing your old air conditioner with a new installation may not be as expensive as you thought.
It is quite possible to keep your current air conditioner while replacing your defective heat pump. Similarly, you can also consider buying a new air conditioner, while keeping your good old heat pump.
Today's devices are certainly advanced and are often designed to meet different needs at the same time. Some of them, though, are designed to meet specific needs.
In other words, when asking for bids, inform the merchant of your exact needs regarding heating and cooling. You can save a lot of money because hybrid systems often cost more than an appliance with a specific function.
Would you like to compare prices of different systems quickly and conveniently?
Fill out the short online form on this page with no obligation on your part. Our team will be happy to send you 3 free quotes as soon as possible. It costs nothing to try!
Save money by choosing the right air conditioner for your home
There is no point in buying a powerful air conditioner to cool a small room. Not only will the temperature be uncomfortable but you will also run the risk of wearing out your new appliance faster as it will work harder to eliminate humidity from your home that is not there.
Similarly, for obvious reasons, do not choose an underpowered machine to cool a large room or home. You can consider central air conditioning systems, wall-mounted, multi-zone, or portable air conditioning systems based on your actual needs.
HVAC professionals are the best persons to ask for advice regarding the size and power of the air conditioner you need. It is for this reason that you should take note of the dimensions of the rooms or property that you wish to cool or heat before going shopping.
Do you want an unobtrusive air conditioner?
You will soon find out that not all heating and air conditioning systems are unobtrusive. If the look and style of your next system are important to you, then you need to know a few things:
Window-mounted air conditioning systems may not be very pleasant to look at but they have the advantage of being removable. When summer is over, you can remove your appliance and regain the use of your window once again.
Portable air conditioning systems are certainly not very attractive but they are portable and can be installed wherever you want. Is a guest coming over? Put it in a cabinet while if it is not in use.
Since a central air conditioner is attached to your main heating system which normally should not be in plain sight, it is quite unobtrusive. The equipment will be visible in your outdoor space but not from inside the home.
Modern wall-mounted air conditioners are generally quiet and unobtrusive. New models are smaller in size and more efficient than the old models you may be familiar with.
Check your local regulations
Before installing a new HVAC system, find out about the requirements of your municipality. A quick visit to your city's website or a quick phone call can give you the information you need.
Better to act cautiously, especially when dealing with an investment such as the purchase and installation of an air conditioner.


Does the noise from an air conditioner bother you?
If you answered yes to this question, then perhaps you should consider purchasing a more "high-end" heating or cooling system.
Indeed, even if most appliances today are designed to be as quiet as possible, some are quieter than others. That said, fear not! No system should disturb your sleep unless you have very sensitive ears.
High-end or luxury models of air conditioners only produce the sound of a light breeze. This means that they are almost inaudible. 
Further, wall-mounted air conditioners have a reputation for being very quiet, whether high-end or mid-range. Smaller portable air conditioners, on the other hand, tend to generate a little more noise although this is not a din or a disturbing sound for most people.
Choose the right power for your air conditioner



According to CAA Quebec, the first rule to remember is that a small appliance that runs longer will be more efficient than an overly powerful air conditioner that stops and restarts often."
The longer the operating cycle, the lower the humidity level. It is ideal if it remains between 30% and 50% as it promotes the quality of the air and the comfort of the general climate. Think about it: the more humid a room is, the more oppressive the heat. It makes perfect sense. 
For a regular room with a standard ceiling height, you should estimate between 100 and 200 watts of power per square meter. Again, at this stage, asking an advisor for help in finding the right device is a good idea.
Look for the ENERGY STAR logo
When you compare the different heating and air conditioning devices available to you, remember to favor systems whose energy efficiency is certified. In addition to saving money, these products offer exceptional performance while being environment-friendly.
The ENERGY STAR logo assures customers of the energy efficiency of the different appliances on the market. Look for it to make sure you get a quality product that will meet your expectations.
The different types of air conditioners
There are different types of air conditioning and heating systems that you can choose from based on your needs.
Central air conditioners
Central air conditioners may be the most expensive but they also tend to have the longest lifespan. One thing is certain: buying a central air conditioner is a good investment.
How do they work?

A central air conditioner basically works the same as a wall-mounted air conditioner. A compressor is installed outside your home and is connected by pipes filled with refrigerant to an evaporator. The humid air is captured and expelled through the ducts before being stripped of its heat, cooled, and then rerouted into the house.
The difference between central type systems and wall type systems is the location of the evaporator.  For a central air conditioner, the evaporator is directly installed in your central heating system which will take care of the diffusion of the now fresh air.
The pros of central air conditioning systems
You should consider buying a central air conditioning system if you already have a central heating system or are planning to have one installed. If not, perhaps a wall-mounted or multi-zone device will do the trick.
The fact is that a central device has several advantages. In addition to being economical (the installation is shorter and the equipment is less numerous and less obtrusive), this product is recognized for the uniformity with which it diffuses the cooled air. It is a must for those who desire a comfortable and natural temperature.
Here are some things to know before you go looking for a central air conditioner:
Do NOT choose this type of system if the area you want to cool is less than 150 square feet;
You should always choose the right power for your appliance, with the number of BTUs that suits the size of your home. Otherwise, you will see your electricity bill increase significantly.
Wall-mounted air conditioners
You may have heard wall-mounted air conditioners referred to as wall units. In any case, you will be dealing with a device that works in the same way with central units due in part to a smart combination of an evaporator and a condenser.
How do they work?
The wall-mounted air conditioner works thanks to an evaporator system installed inside the home and a condenser located outside the house. The two devices are connected by ducts filled with refrigerant to exchange the air to cool or heat it.
The principle is simple: when the time comes to cool the house, the evaporator captures the humidity contained in the hot air and sends it to the condenser. The refrigerant in the ducts takes care of absorbing the humidity before the condenser finally expels the hot air outside. Once this process is completed, the air which has now become cool returns to the evaporator and is distributed to the room.
Some models of wall-mounted air conditioners are also classified as heat pumps. In addition to cooling your property in the summer, they can also heat the home in winter. We then speak of heat pumps as reversible wall-mounted air conditioners. The principle behind the operation of these devices is, in fact, the same as that described above but in reverse.
The pros of wall-mounted air conditioners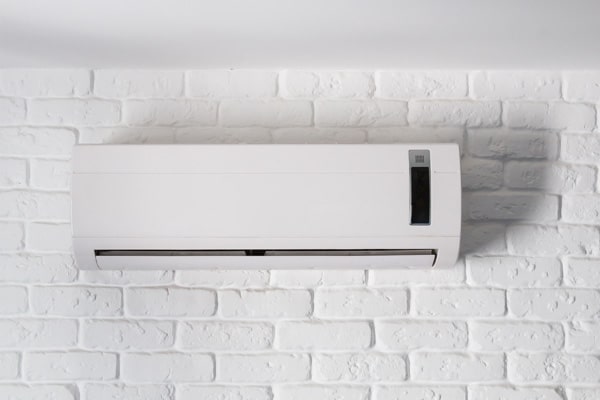 The advantages of wall-mounted air conditioners are numerous. Among them is its high energy efficiency … Enough to save you a lot of money!
Unlike window-type air conditioning systems that are less expensive and less durable, wall-mounted air conditioners offer a comfortable climate pleasantly diffused with fresh air.
Forget about the "air conditioning colds" you've probably suffered before. Wall-mounted units provide safe and natural air conditioning.
A little tip: you can often control this type of product remotely using a control lever provided for this purpose.
Also, note that if you lean towards a reversible air conditioner that can cool and heat the home, you need to think about installing an alternative heating system when it gets extremely cold. Reversible systems, unfortunately, are no longer efficient below 12 degrees Celsius.
A refrigerant good for the planet
Not all types of refrigerants are environment-friendly. Some of them contain a certain type of chlorine which can be harmful to the environment.
Refrigerant manufacturers have, in recent years, improved their products to match today's values. If you want to use a refrigerant that meets environmental standards, look for HFC-410A refrigerant which is as efficient as the others but without the harmful chlorine material. 
Multi-zone air conditioners
If you want to cool several rooms or your entire home do not think a central heating system would be suitable, you can opt for a multi-zone air conditioner, also called a split system.
How do they work?

The principle behind the operation of this type of product is the same as that of regular wall-mounted air conditioners but it has more than one evaporator to cool all the rooms you want simultaneously. Again, you will be dealing with a compressor installed outside and a system of ducts with refrigerant.
The compressor of a multi-zone air conditioner is very powerful, allowing it to cool as many as eight rooms simultaneously.
The pros of multi-zone air conditioners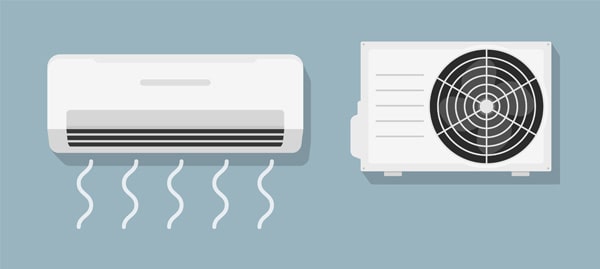 Multi-zone air conditioners, like wall-mounted systems, are generally very quiet and offer outstanding   performance.
They allow you to customize the cooling of multiple areas in the home based on your preferences.  Do you like sleeping in a cool bedroom but don't want your kitchen to stay mildly cool? You can adjust the temperature this way, without any problem. Generally, a controller is given to you with the purchase of such a product.
Do you live in a house with several floors but don't have a central heating system? A multi-zone air conditioner might just be the solution for you.
Portable air conditioners



A portable air conditioner is the cheaper alternative for homeowners who don't want to spend more money on a cooling system. Thus, it can be the ideal solution for tenants.
How do portable air conditioners work?
The operation of a portable air conditioner is simple and somewhat similar to that of a window-type air conditioner.
The device is used to cool only one room (preferably closed) at a time and stores heat.  The device then expels the hot air outside using a conduit which must often be installed in a window.
There are also portable air conditioners without ducts but their performance is not as satisfactory.
The pros of portable air conditioners
The main advantage of a portable air conditioner is, without a doubt, its low cost and portability.
Apartment renters who don't want to invest in an expensive system due to their housing situation can go for a portable cooling system.
This type of device can only cool a room that is not bigger than 30 square meters.  You can only cool the space by 3 or 4 degrees, at most.
Would you like to find the best air conditioner for your home that suits your budget?
Compare free and no-obligation quotes using our short online form.
TOP 3 RATED AIR CONDITIONING BRANDS IN 2022
AMANA AIR CONDITIONERS
ASX 13-14-16-18 SEER Series
ASXC 16-18-20 SEER Series
AVXC 20 SEER Series
ANX 13-14 Series
Amana stands out in the market for its design of the most energy-efficient gas furnaces in the industry. The company assembles its products in Tennessee and Texas.
The average energy rating for Amana models is 17.7. In addition, these are Energy Star certified.
We are not the only ones that rank Amana right at the top of the Best Central Air Conditioners 2022.
High-end Amana models may certainly seem more expensive at first compared to other companies, but you will realize your savings in the long run thanks to its lifetime warranty.
In fact, Amana replaces the heat exchanger or the compressor at no cost to the owners.
These coins are extremely expensive so if you have to shell out for these at any time, your wallet will thank you.
Important note: the lifetime compressor warranty only applies to models with a SEER greater than or equal to 16.
Those with a SEER rating of 16 or less only come with a 10-year warranty like all other Amana air conditioner parts.
LENNOX AIR CONDITIONERS
XC Series 13-14-16-17-21-21 SEER
Merit Series 13ACX-14ACX
MS8C Series
Lennox offers central air conditioners with a variable SEER rating between 13 and 26 with 26 being one  of the highest ratings available.
Lennox is very proud to present a line of highly effective products.
As the industry has an average of 16.7 in terms of SEER rating, Lennox stands out with its high average of 17.9 among all its models.
Lennox stands out for its efficiency when relying on the SEER rating for its appliances.
However, the efficiency of their central air conditioners has a double-edged sword. It is this highly-innovative and energy-efficiency that makes for its more expensive installation. However, a fraction of these high costs can be attributed to the choice of your contractor.
The Lennox compressor has multiple speeds and is one of the explanations for the high efficiency of its units. In the past, air conditioners could only rely on single-stage compressors that could stay off or on at a time.
Nowadays, modern compressors have 2 stages which have 2 levels of intensity and use various amounts of energy.
Lennox, on the other hand, has air conditioners with 2 or more stages instead. These adapt with small performance improvements (maximum 1%) which result in minimal energy used so that the temperature of your home always remains comfortable.
TRANE AIR CONDITIONERS
ZV 18-20i SEER Series
XR Series 13-14-16-17 SEER
XL Series 16i-18i
Trane stands out among the high-performance (central) air conditioners. They excel at keeping your home comfortable throughout the seasons.
The company creates ecological systems with a more sustainable design. Trane units, which have SEER ratings of up to 22 for central air conditioning, are among the most energy-efficient on the market.
Its lifespan is estimated between 18-22 years and it is for this reason that Trane products are found in other lists of the best air conditioners of 2022.
Reducing humidity is the hallmark of Trane units with TruComfort technology. These units remove moisture from the air more efficiently by running longer but at a lower speed than is typically produced by other central air conditioners.
Older air conditioners tend to shut off frequently, letting the hot air rush back in, as a long time elapses before the unit works again.
Their central air conditioners boast an average SEER rating totaling 17.3. This rating places it as the third most efficient air conditioner after manufacturers Lennox and Amana.
A higher SEER number determines the energy efficiency of a unit so an air conditioner with a 22 (SEER) rating will definitely lower your electricity bills.
Other top brands of air conditioners to consider
Of course, there are many other well-known brands of air conditioners throughout Canada. Some of the brands that have become household names are:
Goodman
American Standard
Rheem
Coleman
Carrier
Bryant
Fridge
Heil
Daikin
Maytag
York
Mitsubishi
Compare the prices, features, and SEER ratings of popular models so you can choose the best fit based on your budget.
IMPORTANT NOTE
It should be mentioned that very often, the installation will determine the efficiency of your air conditioner, regardless of the power and quality of the appliance chosen.
There are many sizes of air conditioners and your appliance must be suited to the size of the area you want to cool. Selecting the air conditioner that suits the dimensions of your house is the first step you need to do.
If you buy an undersized unit or oversized unit, you will spend more on your energy bill and possibly overwork your equipment and shorten its lifespan.
An HVAC contractor is experienced and skilled at choosing the right size of air conditioner that will suit your needs. He will make an assessment (calculation of the heating load) to judge the specific area of ​​your residence in terms of walls, windows, and roof to arrive at the necessary size of the device for your home.
Another point to check when installing an air conditioner is whether the air circulates well or not. This is a common problem with an unsuccessful installation.
Blockages in the system or leaky ductwork can cause these issues.
If the installation is not correct, your home will not get the air you need and the air conditioner works harder and at a faster rate to compensate.
In the long term, this could cause premature aging of the air conditioner and possibly hasten the need for a replacement or repair. To avoid this situation, trust an air conditioning professional for the installation from the outset.
Cost of a central, multi-zone, or wall-mounted air conditioner
The prices of air conditioners vary widely. While some sell for around $300 (this is the case of a device that is installed at the bottom of a window), others, such as central systems, can cost as much as $6,000.
Different factors account for these huge price variances. The quality and durability of the product, level of difficulty of the installation process, the versatility of the system, and the ability of the device to cool or heat one or more rooms are just some of them.
The following chart demonstrates what to expect in terms of pricing.
| | |
| --- | --- |
| Type of air conditioner | Average price |
| Air conditioner installed near the window (small device that requires only a short installation and whose operation is similar to that of a portable air conditioner) | $300 |
| Wall-mounted air conditioner | $800 up |
| Portable air conditioner | $900 to $1,500 |
| Central air conditioner | $4,000 up |
| Multi-zone air conditioner | $2,500 up |
Correct installation for a profitable investment
The installation cost of an air conditioning system is part of your investment related to the purchase of a new air conditioner.  It is advisable to hire a qualified HVAC professional to do this for you.
If you try to DIY the installation to save on the installation cost, your appliance may not work properly. In the future, you could spend more on repairs or replacement of parts that would not even compensate any savings you make with a DIY installation.
Remember that your warranty is crucial to protecting your investment. If you don't properly install your unit, you could lose the warranty.
Find the right professional to install your air conditioner to ensure maximum performance, energy savings, and durability of your brand new appliance.
Subsidies for the purchase of your air conditioner
There are different types of grants and tax credits to help you in replacing or installing a heating or air conditioning system that meets today's environmental standards.
Before undertaking the replacement of your heating or air conditioning system, check your locality for programs available for HVAC upgrades and take advantage of free money.
For instance, the Ontario Electricity Rebate ("OER") gives eligible consumers a 17% rebate on their bill before HST. You can find out more details about eligibility and conditions from Eastern Ontario Power.
Manufacturers like Carrier and Mitsubishi also offer cash rebates as well.  Your HVAC contractor can also inform you about other rebates or programs as these offers change or get updated every now and then.
Check the condition of your cooling and heating system
It is important to get a periodic service check of condition of your device.  Is it making an unusual noise? Remember to check immediately following a maintenance check if the air conditioning and heating system is working normally. Is the temperature adequate? Is the performance of your air conditioner or heat pump right for you?
If not, consult an air conditioning specialist as soon as possible. If your device is broken or needs repairs, get it done promptly or get a replacement if one is needed.
By doing regular maintenance on your air conditioner, you can avoid costly repairs or early replacement.  Always call in the experts to avoid risks and keep your HVAC systems working efficiently.
Compare prices of HVAC systems free of charge
Our mission is to help you find the best air conditioning or heating system that meets your needs and your budget. 
This is why our team carefully chooses its HVAC partners based on their reputation, customer service, pricing, and professionalism.  We guarantee that you are dealing with reliable, skilled, licensed, and insured professionals.
Whether you need a central or wall-mounted air conditioner or a new heat pump, we have the experts in our network to help you find the right system.
Our HVAC partners serve all of Ontario including Ottawa, Toronto, Richmond Hill, Mississauga, Vaughan, Hamilton, York, Peel, Durham, and many more!
Would you like to start shopping for your new air conditioner or heat pump today,
 free of charge?
Just fill out the short online form below to receive FREE and NO-OBLIGATION quotes.