If you are looking for the best options for heating and cooling your home or for reducing your monthly energy bill, a heat pump can be the best solution. They are reliable and capable of giving comfort with heat during winter and cooling in the summer. It can also be a solution for hot water.
A central heat pump has an outdoor compressor that connects to an indoor unit that distributes the warm and cold air through the ducts. 
If your house has ductwork, a central heat pump would be convenient and practical for your heating and cooling needs.  It is also possible to have a central heat pump supplemented by a ductless system for homes that have hot and cold spots.
You can ask for professional advice from our partner HVAC contractors to get the best solution for your home.
Just fill out the short online form on this page to get FREE and NO-OBLIGATION quotes!
How does a central heat pump work?

A central heat pump looks very similar to regular heating and cooling equipment. However, its function is different.  It does not have a furnace. Instead, it has a blower fan, an air handler and an evaporator coil that removes heat from inside the home during warm weather and draws heat from the air during cold weather.
A central heat pump is very efficient and affordable to operate. While it can be more difficult for it to operate efficiently during extremely cold weather, it is still the best choice if heating is more important to you than air conditioning.
While central air conditioning is cheaper to install than a heat pump, its only function is cooling.  If heating in the home is adequate and cooling is your priority, you can choose a central air conditioner which could cost from $2,500 to $5,000.  
A heat pump can cost up to around $10,000 to install but you benefit from two important functions – cooling and heating. This means you can use your HVAC system throughout the year. It also becomes cheaper to operate as time goes by.
How can a central heat pump benefit me?
A central heat pump can increase the comfort throughout your home tremendously! Unlike wall-mounted units, a central heat pump introduces air into your home through several ventilation ducts and not just 1 or 2 wall units.
Here are the main advantages of installing a central heat pump:
Even distribution of air through your ventilation ducts
Provides almost all of your home's heating during the winter (about 85%)
Uniform temperature throughout the home 
Higher efficiency than other systems sold on the market
Significant reduction in your electricity bill (up to 40%, approximately)
Reduction of your ecological footprint (the refrigerant gas has no effect on the ozone layer).
Further, if your heating runs on gas or oil, you can benefit from a dual-energy rate. By doing so, you could save a lot on your energy bills.
It is important to note that central heat pumps are more efficient and lets you heat and cool the home uniformly than a wall-mounted system.
How can a central heat pump benefit me?
Due to Canada's harsh climate, heating accounts for about 61% of the energy consumption in most Canadian homes.
Heat pumps have superior technology that allows them to heat and cool, helping homeowners to save as much as 60% to 70% in energy compared to other heating systems.
With this remarkable advantage, how much will it cost for you to install a central heat pump?
The overall cost of a central heat pump installation can run from $5,000 to $12,000.  We know that this range is quite significant but the largest cost factor is the type of heat pump you choose.
Cost factors of a central heat pump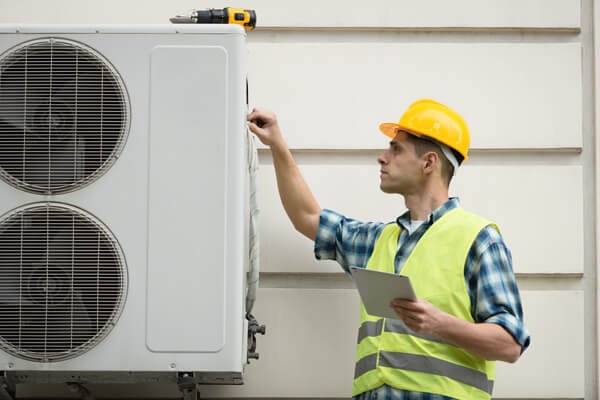 It is really difficult to set the price of a central heat pump installation because multiple factors affect the actual price.
Generally, the cost is determined by an HVAC contractor based on the size of your home, your existing system/s, your location, the type of system you prefer, and its energy efficiency rating.
The good news is that you can manage the cost of your heat pump installation. At certain times of the year, manufacturers offer promotions or rebates which can be passed on to you by your contractor.  You can also take advantage of any grants or rebates offered by your city.  Reliable contractors are knowledgeable about rebates and financing options that can help you finance your project.
Below are factors that affect the cost of a heat pump:
1. The size of your home
The size of your home influences the cost of replacing a heat pump.  A larger house will need higher cooling and heating capacity to effectively control the temperature.  A heat pump's capacity is measured in BTUs and is also the size of the heat pump.
A higher capacity unit costs more and the materials and ductwork will increase thereby increasing the total cost.
Higher ceilings can also increase the capacity required.
Multi-story residences or even single-story homes that are spread out may need multi-zone systems. This will increase the cost of materials and labor in addition to a second outdoor compressor.
Other factors that are considered in estimating the cost of installing a heat pump also include:
Existing ductwork
The number and quality of existing windows
The quality of the caulk, insulation, etc.
The condition of the home/building
Modifications previously done to the house such as insulation upgrades, energy-efficient doors and windows, and roofing can also reduce the heating and cooling requirements. This means the cost of your heat pump installation may be reduced.
2. Heat Pump Efficiency Rating
Like any other HVAC system, the higher efficiency heat pumps cost more.  Keep in mind, though, that while they are more expensive, you save on energy bills in the long run. They also provide more efficiency for heating and cooling your home.
The Seasonal Energy Efficiency Ratio (SEER) and Heating Seasonal Performance Factor (HSPF) are calculated based on the energy used by the heat pump. Higher ratings indicate higher efficiency and savings.
For cooling, the SEER rating can be from 14 to 20.  For heating, the heat pump's HSPF can be from 7.7 to 10. 
You have the power to make the choice when it comes to the energy efficiency of your heat pump and how much to invest.
3. Auxiliary heating
Air-source heat pumps generally need auxiliary heating. Dual-fuel systems that have a gas furnace is an alternative heating source.  With a dual system, the electric heat pump is used in milder temperatures while the gas furnace is used during extremely cold temperatures.
The cost of installation for these systems depend on the heating elements needed, the size of the system, and the furnace's AFUE (gas efficiency).
Get in touch with a reputable and licensed HVAC contractor from our network to determine the best cooling and heating system for your home.
Fill out the short online form on this page to get FREE and NO-COMMITMENT quotes today.
How to effectively choose your central heat pump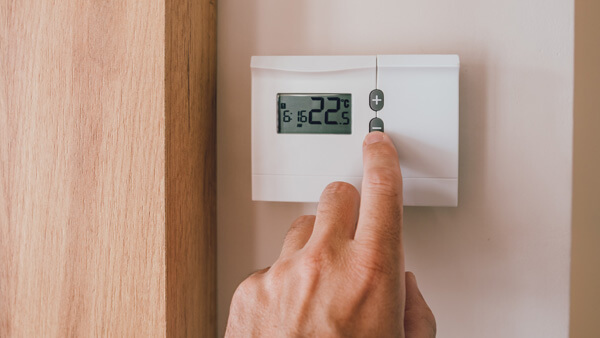 First of all, work with a professional who can support you in all aspects of your project. Choose an HVAC contractor who will determine your needs based on the configuration of your home. 
A contractor will make several recommendations to you to find a system that matches your needs and budget. There are different models and prices on the market so it is important to shop around and find the best deal.
You will also want to learn about the following before making your final choice:
Noise emission: Remember to find out about the number of decibels that will be emitted by the central heat pump if you prefer your equipment to be silent;


The power required: It is necessary to have a device that is powerful enough to heat and cool your home effectively;


Energy efficiency: Look at the VERY (SEER) and COP ratings to know, respectively, the ratio between the energy consumed and the energy released. The higher the rating, the more efficient the device;


The Energy Star rating: This is a rating given to appliances that are the most energy-efficient among products available on the market;


The brand: Some brands are known for their reliability, excellent customer service or even for the performance of their devices. It might be wise to choose a central heat pump from a recognized brand;


Functions: In order to make your experience more user-friendly, you may want certain control options for your central heat pump. Consider finding out what you can do with each one.
As you can see, you need to take several things into account to make a well-informed choice.  Your heating and cooling system is a big investment that will serve you for many years to come.
Popular Brands for Central Heat Pumps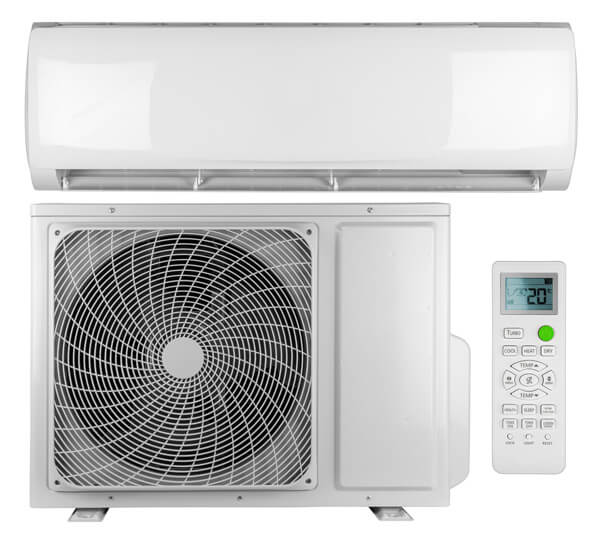 Our HVAC partners offer the widest array of brands and models of heat pumps that you can choose from. They carry the most trusted and reliable brands on the market to help you find the best HVAC system for your home at the right price.
KeepRite: This is a specialist in the production of heating and air conditioning devices. Its main objective is to sell efficient and reliable products;
York: The company offers reliable systems at competitive prices. 
American Standard: this brand is renowned in all the fields in which it works, including heating and air conditioning;
Trane: This company offers green and energy-efficient products;
Maytag: This company is a widely-popular global brand; 
Luxaire: Take advantage of its great expertise and top-of-the-range products;
Goodman: This company offers very good warranties for their products;
Air Tempo: This Quebec company offers good heating and air conditioning products as well as good warranties;
Friedrich: This company specializes in the manufacture of air conditioning and heating appliances;
Gree: This is a major producer in the international market. The number of systems it has sold is proof of its popularity;
Panasonic: This is a company known and recognized for the quality of its devices of all kinds. It has been around for decades. Panasonic is constantly developing innovations in its technologies.
Best central heat pumps with free quotes
Find the best professionals who can guide you through the process of buying and installing a central heat pump.
Our partner contractors give you the freedom of choice when it comes to the brand and model of your heat pump. More choices means more savings and value for your investment!
Fill out our form in just a few clicks and you will quickly receive up to 3 free quotes 
from suppliers in your area. These professionals belong to our vast network of partners who have been thoroughly vetted to ensure your security and protection.
Our service is fast, free and without obligation on your part! Moreover, you will get competitive offers because our partners compete for your business. 
Get started today in shopping for the right central heat pump for your needs!
Simply tell us what you need with one short online form and find the best
central heat pump for your home with our free quotes!