Because a new furnace can cost a few thousand dollars, it is important to get the best options to choose from.
Don't delay replacing your old furnace as it can pose health risks to you and your family and increase your heating costs.
You deserve to enjoy a cozy and warm winter in your home. With the right furnace, you can be comfortable and relaxed even if the weather outside is cold and dreary!
We will be happy to connect you with our HVAC partners so you can compare your options and save money!
Fill out the short online form on this page to get reliable quotes from our partners. They will provide you with free and no-obligation quotes based on your home and your needs.
When is the right time to replace a furnace?
Is your furnace more than 10 years old? If yes, your equipment may not be energy-efficient and not operating at its peak. In fact, your furnace may be operating only at 50% which means you are not getting the most out of your energy use.
You can reduce your heating bill by as much as 40% with a furnace replacement.
Aside from the age of your furnace, you may be spending unnecessarily on frequent repairs because your equipment has reached the end of its lifespan.
If your energy bill keeps going up and you are getting your furnace checked more often than usual, it may be a good time to consider replacing your furnace with a more energy-efficient model.
How to choose the right furnace for efficient heating?
Homeowners in Ontario depend on the efficiency of their heating system to keep them warm in wintertime.
If you are in the market for a new furnace, you need to know what to look for so you can buy a new one that will perform well, last long, and cost less to operate.
You also need to find a residential furnace contractor with the appropriate licenses and permits in Ontario, experience and good customer service and is not a subject of a dispute or complaint with the Consumer Protection Office.
HVAC services are essential and in high demand so it is also important to find a contractor that can accommodate you right away.
To choose the best furnace for your home, you can ask a specialist to conduct an in-home assessment which includes:
The layout of your rooms
Your heating requirements
Size and orientation of your windows
Type of home
The quality of your home's insulation
Once the contractor has this information, he will offer you recommendations and options based on your budget.
Factors to consider when buying a new furnace
A homeowner will usually be concerned with what brand of furnace to choose. Although some brands are better than others, there is no simple answer to the brand you should buy.
Rather, evaluate the reliability of a furnace based on tested factors that point to its quality and reliability.
It cannot be disputed that one of the most important factors to consider is the quality of the installation.
You may not know it but an HVAC contractor is as critical as the brand of furnace you select.  This is because an experienced company will do a great job and provide you with after-sales support.
Choose an energy-efficient furnace for your home
Another factor to consider when choosing the right furnace for you is energy efficiency.
If you buy an energy-efficient furnace, you can save money and reduce your carbon footprint at the same time.
The percentage of efficiency of a heating system during a season is called: the Annual Fuel Utilization Efficiency (AFUE). For the best results, purchase a furnace with a high AFUE rating.
Today, most furnaces are Energy Star rated. Opting for this symbol means choosing to reduce your heating bill. Indeed, this authentication is a guarantee of superior energy efficiency and, by the same token, energy savings.
Types of Furnaces: Electric, Oil, Propane Gas, Natural Gas
Are you wondering whether to buy an electric furnace, a propane gas furnace, a natural gas furnace, or an oil furnace? Each type of furnace has its pros and cons for your consideration.
By getting the information we have for you below, you can make a smart choice regarding your furnace installation and reap the rewards for many years to come.
The pros and cons of the different energy supply sources
Reliability, convenience, and availability are most often taken into consideration when it comes to choosing a furnace.
Weigh the pros and cons before choosing the right furnace for your home as explained below.
Why buy an Electric Furnace?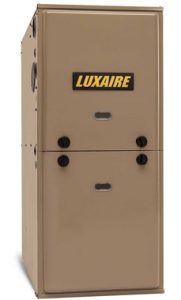 Luxaire Electric Furnace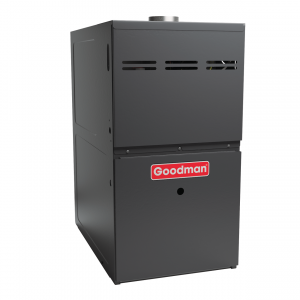 Goodman Electric Furnace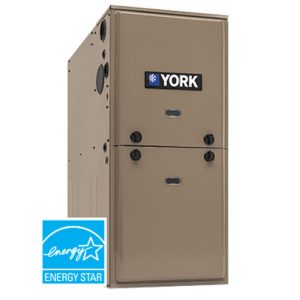 York Electric Furnace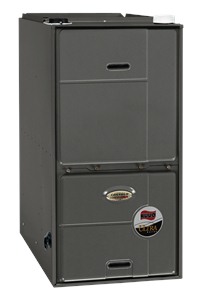 Ruud Electric Furnace
Electricity is an energy source that is abundantly available throughout Ontario.  Installing an electric furnace will allow you to use an energy source that is:
renewable,
silent
clean
Electricity does not produce soot, and is non-polluting:
The electric furnace does not emit harmful polluting particles,
Low energy consumption: The energy efficiency rating of the electric furnace is close to 100%,
Affordable: required investment to purchase and install an electric furnace is minimal.
An electric heating system does not require maintenance or a tank or chimney.
Many electric furnace models include an additional coil for air conditioning, also called an evaporator. This component is required if you plan to eventually install an air conditioner or heat pump. With the addition of a heat pump, your heating system becomes dual-energy so grants are possible.
Whether your electric heating system is used to ventilate, heat, or cool your home, the airflow will always be optimal even if the filter is clogged.
Thermostats can be set independently in each room of the house.
Disadvantages of electric furnaces
An electric furnace is useless during a power outage.
The cost of electricity increases almost every year
Electric baseboards do not necessarily match all types of interior design because of their aesthetics.
They can interfere with the general layout of the furniture.
Alternative to baseboard heaters: Ecorad
The Ecorad system consists of "ecological radiators".  This system combines the elegance and beauty of old-fashioned heaters with the energy efficiency of electric furnaces.
Older heating systems that use steam or hot water as their energy source used cast iron radiators to distribute the heat generated. Most of these can be recycled with the Ecorad system.
The old radiators will be inspected, stripped, and cleaned. The size will be adjusted if necessary and the finish will be restored.
The advantages of buying an oil furnace
An oil furnace is a safe source of energy. 
The flow of warm air produced by an oil furnace circulates better in the house. Because the heat is distributed optimally, the house warms up more quickly.
If you use a central heating system (forced air), you can easily integrate a central air conditioner, air cleaner,  or humidifier.
Recent technologies have allowed manufacturers to produce quieter and more compact oil furnaces that are better suited to modern buildings. What's more, a wall-mounted vent can replace the traditional chimney.
Disadvantages of choosing an oil furnace
The disadvantage of choosing an oil furnace is the risk of projection of microscopic pollutants as well as leakage (or overflow) of heating oil.
The price of petroleum products such as oil is constantly rising. Moreover, it is not renewable energy.
In the event of a power outage, your oil furnace will continue to operate, burning the fuel it has. However, the electronic control needs electricity to turn on the heating system and the blower needs electricity to distribute the heat.
If your oil furnace is defective, it can produce a foul odor and soot. It can also be fairly noisy.
You will also need to have space for the oil tank.
To help you choose your furnace, compare prices and products using the Compare HVAC network to connect with reliable contractors anywhere in Ontario.
The Benefits of Buying a Propane Gas Furnace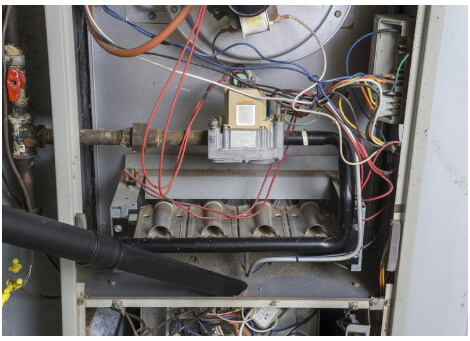 Propane gas furnaces are designed to be much safer than they used to be.
Propane gas is a fuel that has many possible residential applications. Some of the other appliances using propane gas include heating systems, water heaters, refrigerators, fireplaces, dryers, barbecues, generators, pool heaters, etc.
Propane gas burns without any residue being produced in the heating system and with very low greenhouse gas emissions. Although it may emit some harmful particles, propane gas is still considered clean energy.
As it burns, it releases carbon dioxide (CO2) and water vapors; the same thing humans produce when we breathe.
The heat from a propane gas furnace is created instantly and evenly. This means it heats up your home much faster.  Think of how quickly chefs at top restaurants using propane gas furnaces can start cooking their dishes.
Propane gas furnaces also have longer lifespans than most furnaces that do not use gas as a combustion source.
A propane gas furnace can still operate during a power outage, meaning that it continues to burn the propane that is still available.
The cons of choosing a propane gas furnace
Propane gas is more expensive than any other energy source. In fact, even if you purchase a high-efficiency propane gas furnace, your heating bills will be more expensive.
This energy source is non-renewable.  Gas furnaces (propane and natural) require electricity to start the heating system (electronic control) and to operate the blower which can be a disadvantage during a power outage.
The advantages of buying a natural gas furnace
Natural gas provides even heat and comfort very quickly. This energy source can heat your home twice as fast as electricity. The contemporary manufacturing standards of natural gas furnaces make them exceptionally efficient and safe heating systems.
Natural gas is the fossil fuel that is considered the cleanest. Like humans, it releases water vapor and CO2 (carbon dioxide) as it burns.
Choosing a natural gas furnace means eliminating the problems of soot, black smoke, dust, and ash.
Buy a natural gas furnace and you won't have to worry about a power outage. It will continue to work, burning the gas it has.
In addition, certain elements can be added to the natural gas heating system to transform it into a propane gas furnace.
It is possible, by adding an additional evaporator (coil), to enjoy the benefits of an air conditioner or heat pump.
Oil and gas are used in the daily lives of many Ontario residents as both are used to supply 75% of the province's energy use. In fact, there are more than 3 million residential and commercial natural gas customers in the entire province.
The disadvantages of choosing a natural gas furnace
However, the natural gas distribution network does not have the infrastructure to cover all of Quebec.
The electronic control that activates the heating system and the ventilator of gas furnaces (natural and propane) need electricity to operate, which can be a problem during a power failure.
In addition, it is a non-renewable energy source.
The average cost of installing & using a furnace
The price of a furnace as well as the costs of installation and use are specific to each residence and vary based on your choices.
Avoid coming to hasty conclusions!  There are many factors to consider, such as:
the size of your home
the energy source (electricity, oil, propane, natural gas)
the price of the model you choose,
its energy consumption,
the condition of your home's ductwork,
the airtightness and insulation of your home,
the time required for the installation,
other accessories such as filters, thermostats, humidifiers, etc.
Compare the prices of different furnace types and how much it costs to operate them.
| | | |
| --- | --- | --- |
| Energy Source | Price of the Equipment | Annual heating cost |
| Fuel Oil | $2,000 | $2,506 |
| Electricity | $3,000 to $5,500 | $1,549 |
| Natural Gas | $1,700 | $1,373 |
Pros say that for the total price for installing a furnace, it is best to prepare at least $3,000. High-efficiency and two-stage furnaces cost more and could be as much as $5,500 to $6,000, including installation.
On the other hand, heating costs actually vary based on the size of the home and the energy efficiency of the device. Studies show, however, that the average homeowner pays from $50 to $170 per month for heating.
Many of the participants used natural gas or propane.
As energy prices continue to rise, it may not be easy to determine the best heating system and energy source for your home. Of course, electricity is still the most convenient and energy-efficient mode for heating.
To optimize energy efficiency, make sure to have a good furnace and replace your furnace when needed. Several financing options and grants from your area may be available to you, too.
Fill out the form on this page to connect with top HVAC contractors who can give you reliable advice regarding your heating needs!
Are there subsidies for the purchase of my furnace?
Don't let financial considerations delay your project because a furnace replacement can also help you to save money in the long term.
Our HVAC partners will also be happy to inform you of any subsidies or grants in your area and some of them also offer financing options.
The best way to know the cost of a furnace replacement and help you plan your budget is to get actual quotes from reputable contractors!
Just fill out the form on this page to receive all the information you need for your project.
Compare up to 3 free quotes for your new furnace
Ontario winters can be chilly unless you have a reliable and efficient heating system. You can stay warm during the cold winter months with help from our HVAC partners.
Contact the experts from Compare HVAC to get professional advice and accurate quotes for the installation or repair of your furnace.  Their services include complete assessment, sales, installation, repair, and maintenance.
Combine energy savings and comfort with your furnace replacement project and ensure you get high-quality professional installation at the best price!
Fill out the form on this page to obtain 3 free quotes for the purchase or maintenance of your furnace anywhere in Ontario!