Wall-mounted heat pumps are efficient and cost-effective solutions for cooling and heating your home.
Before buying or installing a heat pump, it is important to do your research and appropriate checks so you know what you are getting into.
They are great for heating and cooling homes with just one system without needing ventilation ducts. Hence, you can enjoy comfort all year round without spending on ductwork.
There are many heat pump models sold by reputable manufacturers such as Mitsubishi Electric, Gree, Daikin, and Fujitsu, among others.  Many of them are certified by Energy Star which means they have high energy performance ratings.
Our partners, specialists in heat pump installation, offer many of these brands you can choose from.
Fill out the short online form on this page to receive FREE and NO-OBLIGATION quotes to compare for bigger savings!
What are the biggest advantages offered by heat pumps?
Heat pumps offer homeowners 5 huge advantages as follows:
The cost of installing a heat pump is higher than single-use systems such as a furnace or air-conditioner. You must remember that you are getting 2 functions with one system.  You can cool and heat your home and enjoy comfort and convenience throughout the year.
While the cost goes up when you choose models with higher power and performance, the savings you obtain over time also increases.
Using a wall-mounted heat pump can reduce your energy bill by 40% to 50% annually.
With proper maintenance, a wall-mounted heat pump can last 10 years (for standard models) or 25 years (for high-end or advanced models.)
Because they last long, your initial investment can be recovered through energy savings and durability over time.
Heat pumps are environment-friendly and cost-effective compared to other HVAC systems. They also improve the quality of indoor air for your family's comfort and protection.
Wall-mounted heat pumps do not use combustion for heating. Thus, the risk of carbon monoxide poisoning from your heating system is eliminated.
Air is not dry which also helps to avoid sore throat.
Wall-mounted heat pumps use renewable energy- heat. They transfer heat from outdoor air and distribute it throughout your home. 
Heat pumps are also certified by Energy Star to attest to their high seasonal energy performance. This means you will consume less energy to operate your heating system.
5-EXCELLENT VALUE FOR MONEY
For your initial investment, you will obtain excellent value for money.  Since heat pumps have a long lifespan with proper maintenance, you will not need to replace it any time soon. The savings you get from your monthly energy bills will also help to pay for your system over time.
A wall-mounted heat pump will cost a little more than an air conditioner but the savings generated due to efficient heating will quickly make up the difference between the two.  Choosing a heat pump that allows you to heat and cool is a smart choice due to its medium and long-term cost.
Even if your house is big, you can cool and heat properly with a heat pump if you choose a multi-zone heat pump. 
For expert advice, connect with our reliable HVAC partners using our short online form, free of charge!
The disadvantages of using a heat pump
There is no such thing as a perfect system so we know you also want to know the disadvantages of using a heat pump. 
The truth is that there are not many drawbacks when it comes to wall-mounted and multi-zone heat pumps. At least, there are not significant ones. 
Even if the wall-mounted and multi-zone heat pumps are quiet, the fan can make a little noise. Some models are noisier than others so you should check the noise level when you are shopping for a heat pump.
They also cost more than other systems because they have more powerful compressors.  The larger the home, the more units you may need to install so the cost also increases.
Heat pumps do not work efficiently in freezing temperatures so you may need a backup heating system such as a furnace.
How does the wall-mounted heat pump work?
Essentially, there are 3 phases of operation for a wall-mounted heat pump:
Heating: the outside heat is brought inside the house by the compressor. A refrigerant liquid then transforms it into vapor which is compressed in order to obtain greater heat. This will finally be introduced inside the home in the form of air.
Air conditioning: this is the reverse process to heating. To cool your home, the heat from the air inside the home is extracted by the heat pump and expelled outside.
Defrosting: if the outdoor temperature is below freezing point, hot air is automatically used by the heat pump to defrost the coil located in the outdoor unit. This helps to prevent device malfunction and loss of efficiency. In addition, depending on the outside temperature, the heat pump will proceed with this phase at more or less long regular intervals.
The operation is quite simple. Rather than stopping when the desired temperature is reached, the compressor reduces its power by 75%. By doing so, there are fewer temperature fluctuations.
Some wall-mounted heat pumps have Inverter Technology. You could save a lot of money on your energy bill and enjoy comfort in your home all year round.
Cost to install a wall-mounted heat pump
The national average for the cost of a heat pump replacement or installation is from $7,000 for standard homes to $17,000 for large homes. 
Of course, the biggest factor that determines the cost is the type of heat pump you choose.
Air-source heat pumps cost about $3,250 to $6,000 for each indoor unit.  A ductless mini-split heat pump system can cost from $9,000 to $11,000 with installation.
The best way to know the accurate price for installing a heat pump in your home is to request a quote from our HVAC partners.
You may even benefit from promotions and rebates that only HVAC contractors offer so you can save on your heat pump replacement.
Get started with free quotes today by filling out the form below.
Choosing a wall-mounted or multi-zone heat pump
There are several factors to consider before buying a wall-mounted or multi-zone heat pump to heat or cool your home. You will be able to establish your priorities based on these and choose a heat pump that suits you.
The brand: you are less likely to regret your purchase by selecting a well-known brand of heat pump;
Wattage: You must have an adequate number of BTUs to heat and cool the space you want, whether it's one room or your entire home. Generally, the number of square feet is roughly equivalent to the number of BTUs required;
Noise level: Although wall-mounted and multi-zone heat pumps are quiet, some models are noisier than others. If you are easily irritated by noise, you should look for a quieter heat pump;
ENERGY STAR rating: ENERGY STAR-qualified appliances are among the most energy-efficient in their category. Their efficiency is also taken into account which allows you to find the highest-performing systems;
The Seasonal Energy Efficiency Ratio (SEER): This is the calculation of the energy released versus the energy consumed for cooling the home. The higher the SEER rating, the more efficient the heat pump.
The Coefficient of Performance (COP): This is similar to the SEER but refers to heating performance. 
Regarding your choice of contractor from whom you will buy or request installation of the heat pump. It is important to choose one that will take the time to assess your needs. The power of your system should be compatible with the size of the area you want to heat or cool. 
A true professional will evaluate the configuration of your home and study the best location for your wall unit.
Fill out the short online form below to receive up to 3 quotes for a wall-mounted or multi-zone heat pump that meets your needs.
Reliable brands of wall-mounted or multi-zone heat pumps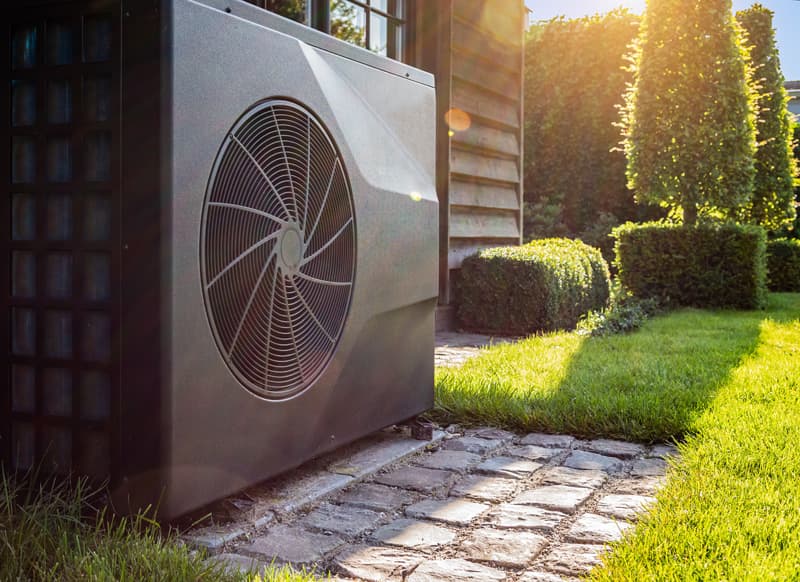 Some brands have distinguished themselves insofar as the performance of their heat pumps is concerned.
Below are just some of the most popular and reliable brands of wall-mounted or multi-zone heat pumps.
Maytag: A well-known company in the field of electronics, it offers silent and eco-responsible appliances;
KeepRite: it specializes in the production of heating and air conditioning devices. Its mission is to provide efficient and reliable products;
Luxaire: founded in 1954, it has a lot of experience in high-quality air conditioners and heat pumps;
Goodman: This American company offers lifetime guarantees for compressors.
Comfortmaker: As the name suggests, comfort is the most important thing for Comfortmaker systems;
York: Innovation and reliability are the two characteristics of the products designed and manufactured by this company;
American Standard: this century-old company has been able to adapt to the competition over time by offering quality products;
Friedrich: Offers specialized air conditioners and heat pumps that offer high-quality performance;
Gree: Founded and established in China, this company produces up to 27 million air conditioners and heat pumps per year;
Trane: world leader in air conditioning, it has gone green and offers efficient products with a view to conserving the environment;
Panasonic: This electronics giant is on a mission to improve people's lives through innovation;
Air Tempo: established in Quebec, Air Tempo has made its niche in the air conditioning sector for more than 10 years. It offers excellent warranties on parts and labor.
You can compare different brands and models to find the right system that meets your needs and budget.
Request free and no-obligation quotes from our HVAC partners to save time and money by filling out the short online form below.
Why choose a professional for a heat pump installation?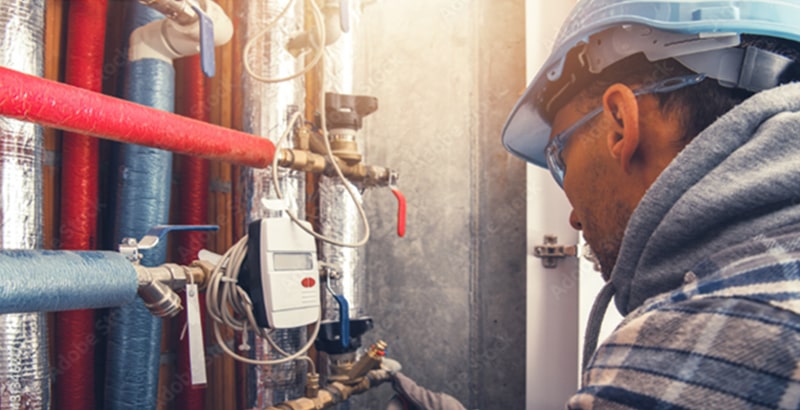 Your friend or neighbor may swear to know how to install a heat pump but unless he is a certified electrician, it is not worth taking the risk.
Installing a heat pump requires compliance with a multitude of parameters such as positioning the coil, proper attachment of the support, and assessment of the wind or weather to ensure proper installation.  
A professional HVAC installer will make sure that your heat pump is installed correctly to get maximum performance from your system.  Proper installation will also help you to avoid frequent service calls or repairs that can cost money over time.
It is also important to properly install and maintain the heat pump to ensure it lasts a long time!
Working with electrical systems is dangerous. Hence, only qualified technicians should undertake work such as installing heat pumps or air conditioners.
A reputable HVAC specialist will give a warranty for the quality of the work so that you can have recourse should there be issues after the installation.
Are you wondering where to find a reputable heat pump specialist? Our platform allows you to connect quickly and easily with heat pump contractors in your area. 
We have screened our partners diligently for their qualifications, licenses and insurance, customer services, and pricing to make sure you work only with reputable professionals.
For your peace of mind, look for a heat pump specialist in our network by filling out our short online form!
Heat pumps & other heating systems from our reputable partners
When it comes to heating systems for the home, nobody is more qualified than our HVAC partners. 
This is because we have gathered the best HVAC specialists throughout Quebec & Ontario for your convenience.
Our partners can help you choose the right heat pump that meets your needs at the right price!
The biggest advantage of working with our partners is being able to compare multiple options – wall-mounted, multi-zone, or central heating systems based on your needs and your home's configuration.
These energy experts will advise you on the best solutions for your cooling and heating needs and offer you reliable products that meet your budget.
Don't waste time and money on your heat pump installation! Simply fill out the online form below to receive up to 3 free quotes from our trustworthy HVAC partners.